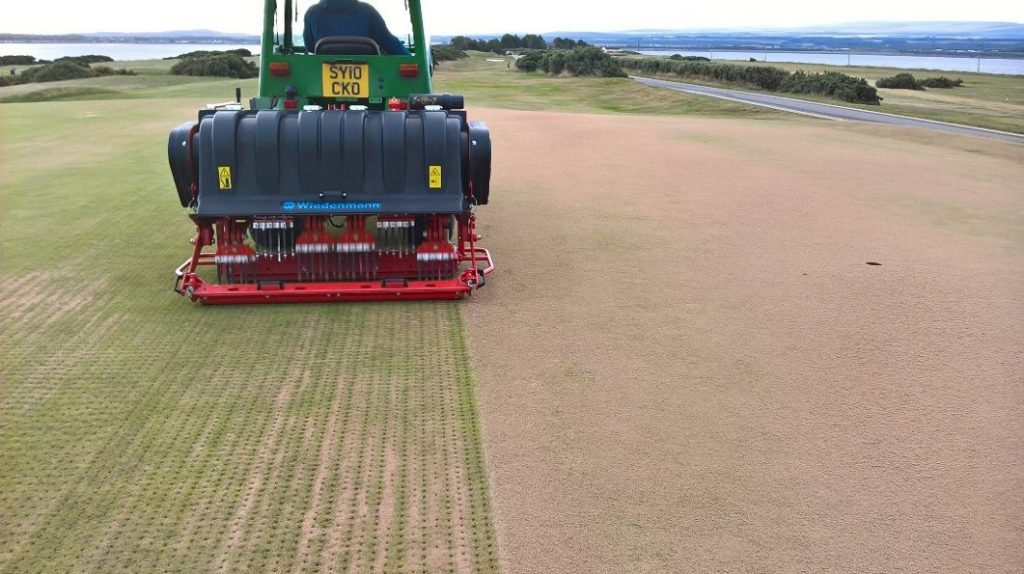 George Paterson, Head Greenkeeper at Fortrose & Rosemarkie GC, has had first-hand knowledge of Wiedenmann Terra Spikes for over 20 years. In past roles at Rosses Point, County Sligo GC and Lossiemouth GC, he has used an XP, a Greens Terra Spike and a GXi8 HD. Now for the last 12 months he has been working with both the super light SL6, Wiedenmann's smallest aerator in their fleet, and the deepest, the 40cm XP.
The Black Isle club, is just 20 minutes north of Inverness and in 2018 was named 'Golf Club of the Year for Scotland' in the Luxury Travel Guide Lifestyle Awards. A Championship links course, it is the 15th oldest recorded club (1793) and was redesigned by the legendary James Braid in 1932.
"I chose the SL6 last December because our Terra Spike XP was a little too big for some areas, said George. "It is great on fairways but couldn't reach some tight spots. Adding the SL6 gives versatility and I can cover all bases. Instantly it offers a lighter footprint for our fine turf areas, so our tees, greens and approaches. We're very happy but as it is my 4th Terra Spike purchase I knew it would be robust and reliable."
At 1.4m wide, the SL features an innovative cover, one of several bespoke features designed to keep the SL's weight to just 470kg. An updated version of Wiedenmann's patented TwinDrive takes up less room and moves the centre of gravity closer to the tractor. A built-in tine return system and additional shock absorbing facility make it noticeably distinct to other Terra Spikes.
"Our John Deere 2720 compact tractor lifts the SL6 comfortably, especially getting on to some of our smaller tees. It aerates just outside the width of the tractor wheels which is excellent. For us it's a dual machine, as we both hollow and solid tine. We can put multi tine heads on and we can get down a full 8 inches (210 mm), ideal for our shallow top soil. On its last outing we went down 8 inches on the tees. Previous to that we solid spiked for overseeding, using cluster tines, and next time round we will solid tine greens again. "
"With both the XP and the SL6 we've got aerators at the opposite ends of the Wiedenmann scale, so best of both worlds pretty much," concluded George.